Mittwoch, 15. Juli 2020

- 18:00
"Interrogating intersectional contestations: Should the privileged speak?" mit Ann Phoenix - Cornelia Goethe Centrum
Interessierte sind herzlich eingeladen. Weitere Informationen können Sie dem Programmheft entnehmen.
Vortragssprache: Englisch
As intersectionality has become both more ubiquitous and more popular, it has increasingly been more debated and contested. This is partly because, as Kathy Davis suggests, it is sufficiently expansive to accommodate varied approaches. Yet, since an everyday feature of academia is to produce new, better understandings to replace previous versions, many intersectional theorists seek to establish their version as superior to others. At the same time, the popularity of the concept has generated antagonism from those who do not subscribe to intersectionality. This talk examines different ways in which intersectionality is contested. It considers both 'outsider' and 'insider' critiques. It examines a variety of ways in which political differences run through the different contestations, ranging from animosity that can be seen as competition in what Martinez called the 'Oppression Olympics', skepticism about different transatlantic academic/political concerns and questions about the (dis)privileging of particular social categories and locations. Cross-cutting many of the claims, critiques, responses and defensiveness about how intersectionality should be theorised and employed are heated disputes about racialisation and racisms and rumbling contestations about gender. The talk argues that these multiple critiques and contestations are themselves illuminating of society, social processes and hopes and fears for transformation towards particular versions of social justice.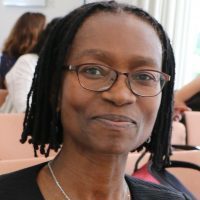 Ann Phoenix
ANN PHOENIX is Professor of Psychosocial Studies at Thomas Coram Research Unit, Department of Social Sciences, UCL Institute of Education. Her publications include work on narratives, theoretical and empirical aspects of social identities, gender, masculinity, youth, intersectionality, racialization, ethnicisation, migration and transnational families.
Aktuelle Hinweise zu den Colloquien und COVID-19
Aufgrund der derzeit unabsehbaren Entwicklungen von COVID-19 behält sich das Cornelia Goethe Centrum vor, Veranstaltungen kurzfristig zu verlegen, abzusagen oder als Videokonferenz abzuhalten. Bitte informieren Sie sich vor Veranstaltungsbeginn über Zeitpunkt, Ort und Format der Colloquien unter
http://www.cgc.uni-frankfurt.de/cornelia-goet…
Veranstalterin
Cornelia Goethe Centrum für Frauenstudien und die Erforschung der Geschlechterverhältnisse (CGC)
Konzeption: Bettina Kleiner, Helma Lutz, Marianne Schmidbaur
Koordination: Lucas Schucht
Für die Unterstützung der Veranstaltungsreihe bedanken wir uns sehr herzlich bei unseren Kooperationspartner*innen!

Nina-Rubinstein-Weg,
Frankfurt am Main,
Hessen,
Deutschland